Kailash Helicopter Tour from Lucknow
Full moon Mansarovar Lake on 30 May 2018 (Buddha Jayanti Purnima)
Tibet, an autonomous region of China is a home to sacred Mount Kailash and Mansarovar Lake. The snow-capped Kailash Parvat (6714meters) is believed to be a place where founders of four different religions namely, Tibetan, Buddhism, Jainism and Bonpo once meditated and resided. It is symbol of peace and fortunate for the followers of these religions. Hindus worship Mount Kailash as a dwelling place of Lord Shiva and his consort Parvati. Buddhists call this peak as a meditating spot of Lord Gautama Buddha. It is also source of four holy rivers of Asia namely, The Brahmaputra, The Ganges, The Sutlej and The Indus.

Circumambulating this sacred peak is believed to bring happiness and pave way to heaven. To make the arduous pilgrimage to Kailash and have the divine view (Darshan) is to attain release from the clutches of ignorance & delusion of life. Hence, thousands of pilgrims mostly from India and Nepal venture this place with faith upon the superior god.

The word "Manas" means mind or consciousness; and "Sarovar" means Lake in Sanskrit language. Manasarovar Lake (4580m) lying beside holy Mt. Kailash is another important Pilgrimage destination in Tibet. It has held deep spiritual influence and wide religious faith among Hindu & Buddhists across the world. Circumambulating this gigantic Lake and taking a dip into its cold water is believed to be Purge one's soul from the gluttony and the physical body from sickness and diseases. "Moksha" (an everlasting escape from the cycle of birth, death and re-birth in the worldly life) is believed to be the reward of the holy circumambulation. Thus, it is a must visit place for someone who wants to gain favor of gods and goddesses. If you want to earn good deeds by venturing these holy places then please contact us. Our Travel Company at Nepal, Monterosa Treks and Expedition makes very pleasant & smooth Yatra every year. We heartily welcome you. Here is our itinerary for this year.

Meeting point: Your arrival to Nepalgunja hotel as per your time table, our staff will meet you and briefing for Kailash tour.
Important highlights
53 km Kailash Parikrama / Kora/round, 38 km must be walk/trek from Yamdwar to Chongdo. There is no any car/bus and jeep service available. So, everybody should walk or ride horse. It is also possible to hire pony and local porter for 3 days.
Age limit for enrolling Kailash tour is 12-65 year old for Indian passport holder. 12-60 year old people can only do Kora and 61-65 year old people can travel only up to Yamdwar. Although you don't need any heath certificate from doctor you need to be physically fit for Kailash and Mansarovar tour.
The minimum age restriction for other country passport holder is 10 years old while there is no such maximum age limit.
Your passport must have at least 6 months or more validation from travel date.
Though popular as Shiva's abode, we cannot see any temple of Lord Shiva but at Khojarnath there is the temple of Lord Ram, Sita & Laxman in Khojarnath. You can see Rashes Lake one the way.
Hor - Chiu Gompa (Nearby Manasarovar Lake)- Darchen - Yamadwar - Darchen – Hor. Eco vehicle blue bus must be used compulsorily for travelling which we can get from Nagri Tourism of Bureau in Darchen.
Every Yatri have Life, Medical, Rescue Jeep or Helicopter insurance before getting enrolled in Kailash Tour. Do insurance at home country.
We provide Pressure checking machine, Oxygen level checking machine, enough oxygen bottle, Mask-regulator & Medicine Dimox (Latitude medicine) for safe journey.
Helicopter Kailash tour from Lakhanau
23 May 2018 Day 01: After arrival in Nepaljunja hotel and our staff will meet and briefing Kailash tour and introduction team leader of Nepali. Take vegetarian meals.

24 May 2018 Day 02: In Morning, there will be 45 minutes flight to Simikot (2950m). We will take Lunch and in afternoon walk down and visit Shiva Temple for Darshan.

25 May 2018 Day 03: After having breakfast early in the morning, get down at Simikot airport to fly in a small helicopter with 5-6 seats from Simikot to Hilsa. It is 25 minutes flight. After crossing the Nepal-Tibet boarder drive to for 1 hour to Purang / Taklakot and stay overnight in hotel.

26 May 2018: Day 04: Relax and acclimatize yourself in Purang/Taklakot

27 May 2018: Day 05: Drive for 3 hours to Mansarovar Lake (4580m). Circumambulate Mansarovar and take holy bath in its water. Do Puja, rituals & drive to Darchen. Stay overnight in 4 star Kailash Himalayan Hotel in Darchen.

28 May 2018 Day 06: Drive to Yamdwar (Tarboche) for 2 hours. It is the starting point of Kailash Parikarma. Trek to Dirapuk (4860m) by walking for 6-7 hours. Stay overnight at Shishapangma guesthouse.

29 May 2018 Day 07: Trek to Dolma La pass (5636m), Trek to Zuthulpuk (4790m). It is 10-11 hours walk. Then, stay overnight at basic guesthouse in Zuthulpuk.

30 May 2018 Day 08: You should Trek to Chongdo then drive to Mansarovar Lake (4580m) and stay overnight at guesthouse/mud house. (Full moon night in Mansarovar Lake)

31 May 2018 Day 09: Early In the morning, drive to Purang and Hilsa. From Hilsa, take Helicopter to fly to Simikot. Stay one if not possible get fixed wing aero plane and Nepalgunja.

01 June 2018 Day 10: Fly to Nepalgunja and Monterosa Company drop to Hotel in Nepalgunja or Nepal India boarder. Good bye.
Cost; NRIs or Foreigners/tourists passport holder (group join basis / privet)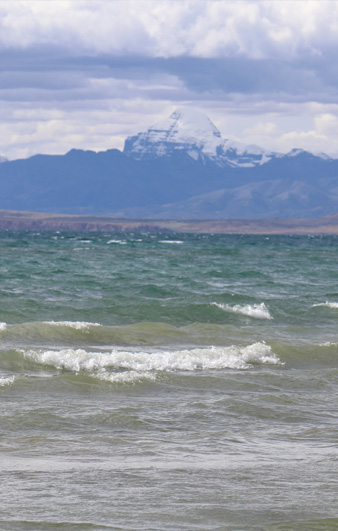 Per person USD 3000 + 175 Visa fee US passport holder = 3175
Per person USD 3000 + 155 Visa fee Canadian passport holder = 3155
Per person USD 3000 + 85 Visa fee other passport holder = 3085
4 star hotel Nepalgunja, Nepal, 4 star hotel in Taklakot and Darchen
Single supplement USD 250 per person (who use single room in Nepal)

Indian Passport holder (Group Join basis/ privet)
Per person INR 1,65,00 (minimum 17 Person) 4 star hotel in Nepalgunja Nepal,                 
4 star hotel in Taklakot and Darchen
Single supplement INR 3500 / 2500 person (who use single room Nepal
Cost Includes
1 night- Nepalgunja, 1night Simikot double bed-sharing basis
Nepalgunja - Simikot – Nepalgunja scheduled fixed wing flight
Simikot-Hilsa-Simikot(Charter flight 5-6 persons) 1helicopter
Tibetan guide for Kailash tour from Hilsa, Nepali team leader
Supporting cooking team - assistant Sherpa guide for Kailash
Life, medical insurance- Nepali team leader Kailash tour staff
Chef cook (who can prepare vegetarian dishes) cook & helper
All guesthouse / mud houses during Kailash -Mansarovar tour
Deluxe luxury air-condition coach(India passport holder/NRIs)
Support truck carrying Kailash food, luggage and Nepali staff
Oxygen cylinder, mask - regulator Kailash for emergency use
Upper Humla permit for helicopter and clients trekking permit
Yak and yak man for mount Kailash Parikrama (Kailash Kora)
All entrance and conservation fee of Nepal and mount Kailash
A duffel bag, completed certificate for Mt. Kailash (if required)
Travel permit and Tibet visa Kailash tour all Yatri, Nepali staff
Baggage allow per person 15kg total who travel by helicopter
Cost Excludes
Day back pack 3 days Kailash Kora
Travel insurance for life and medical
Nepal re-entry visa fee for tourist/NRIs
Domestic excess baggage cargo cost
Beverages(cold drinks & hard drinks)
Photography and telephone charges
Additional expenses incase-bad weather
Emergency evacuation expenses in case
Tips for Tibetan / Nepali guide and staff
Sleeping bag, down Jackets
Packing list for Kailash Yatra
Small back is pack for 3 days Kailash Parikrama/Kora
Basic medicines (for minor injuries or life saving kit)
Any regular medicines that you have been prescribed
Toiletries kit (Shop, shampoo, toothpaste, tooth brush)
Water bottle / Thermos flask for hot water (2 litters)
Sport shoes good for walking for Kailash Kora, gloves
Woolen socks (minimum 4 pairs) Torch light, rain coat
Wool / Thermo cot undergarments for Kailash tour
Shirt and pants which is easier to be while doing Kora)
Sunglasses, Sun lotion/cold cream - Kailash tour/Yatra
Sweets, Zinger/garlic candies, dry fruits, lozenges, etc
Enough warm clothing for mount Kailash Yatra / tour
Cancelation Policy
Cancellation made up to 7 days before the trip departure will incur a 50% fee of the total trip cost
Cancellation made less than 1 week before departure/upon arrival in KTM will be charged full price
Notice for Helicopter Route:
Visa for Indian passport holder should be received from Chinese embassy in New Delhi.
5 days before departure, original passport must be sent to New Delhi office for assessment.
If Indian passport holder lives out of India, Passport should be sent 5 days earlier in New Delhi, India.
India to Kathmandu journey can be set with Voter Id as well and you will get your passport just a day before Kailash tour departure.
If we do not receive your passport on time, you may lose your tour package as we cannot guarantee your visa.
You cannot depend upon us for two cases, 1. Weather condition, 2. Tibet Visa and Permit.
We recommend our Yatris not to take helicopter for Kailash Tour because of unpredictable weather. You may face difficulties on the way to Kailash and while returning back. At least 3 extra days should be invested for relax journey. The route of Nepalgunja – Simikot or Simikot - Nepalgunja has the most fluctuating weather condition. The cost of extra days exceeding the original itinerary will be added on the shoulder of the travelers themselves. The cost per day is USD 35 or INR 2200. Helicopter charge is excluded from this cost for the flight journey. The charger cost must be bear by the travelers if they wish to travel by helicopter.
Every traveler must do insurance for rescue helicopter, land transportation and medical expenses.
In case of delay of Visa from Chinese Embassy, the cost of extra day's exceeding our original itinerary; accommodation should be bear by travelers.
We request every traveler including NRIs not to choose helicopter route and follow Land route. The land journey will be from 01 September 2017. In land route, travelers will have flight from Kathmandu to Lhasa. Then they will be overland to Shigatse then Saga and then Kailash Manasarovar circumambulation.

Or, we can directly fly from Kathmandu to Lhasa then to Ali airport from Lasha. Mansarovar Lake is just 200 km drive from Ali Airport and Mount Kailash is nearby Mansarovar. We will do Kailash and Mansarovar Circumambulation and return back.
We organize Kailash-Mansarovar tour as per our guests' interest and time schedule. We can make both Land Journey and Flight Journey. But, the extra cost excluding our original itinerary should be bear by the guests themselves. Booking is open at Monterosa Treks and Expedition for Kailash-Mansarovar Holy Tour. Haar Haar Mahadev.