Full moon Night in Manasarovar Lake on 28 June 2018 (Purnima)
Ngari Gunsa Airport, situated at an altitude of 4274 m is the fourth highest Airport in the world. It serves both public as well as military purposes since its establishment in 2010. This Airport is situated in the town of Shiquanhe (Ali) in Ngari Prefecture situated in the southwest of China's autonomous region of Tibet.

2 hours of direct flight from Ali Airport takes us to Lasha from where Lake Mansarovar is just at 200 km driving distance. The holy Mount Kailash is nearby Mansarovar. These are regarded as the most sacred land in this entire universe. Kailash region is also pilgrimage to Hindus, Buddhists, Jains and Bonpos.

Mount Kailash Manasarovar: The reverential sanctum, Mount Kailash is situated at an elevation of 6714 m above sea level. Tibet has become a world famous pilgrimage destination as it is home to Mount Kailash and Mansarovar Lake. Especially Hindus, Buddhists, Jains and Bonpos accept the arduous journey to this sacred site with a hope of getting blessings from gods and goddesses. Despite of the differences in beliefs about Mount Kailash, the ultimate faith of devotees is on the superior power of Kailash region. Kailash Parvat is worshipped as savior of entire universe. The four great rivers of Asia namely, The Brahmaputra, The Ganges, The Indus and The Sutlej originate from this bulky peak.

Mansarovar Lake is so gigantic that it takes 3 full days just to go around its periphery. But also, we can see crowd of devotees circumambulating around Mansarovar. It is situated at an altitude of 4,850m above sea level. As Mount Kailash is believed to be the dwelling of Lord Shiva and Goddess Parvati, Mansarovar Lake is said to be the bathing pond of these deities. Lord Shakyamuni is believed to have obtained Enlightenment meditating on the bank of this pond. Hence, this Lake is often termed as Lake of consciousness. The name of this Lake also has same meaning in Sanskrit language.

The external appearance of Kailash Parvat is also unique and mysterious like that of a handle of a millstone. We can see Buddhist symbol 'Swastika' in the southern part of this bulky peak. A single glance upon this divine peak is believed to bring peace and happiness. Those who cannot circumambulate the Kailash Parvat can simply rotate the initial spot called Yamadwar and return back. It is believed to provide equal merit as that of doing Kailash Kora of 53 km. Kailash Yatra via Nepal begins from Kathmandu. We take a flight to Lasha from Tribhuvan International Airport and after we reach Lasha we drive towards Kailash region. After completing Kora, we stay one night at Darchen and next day fly to Lasha. Spending one night at Lasha, we fly back to Kathmandu in next morning.
Important Highlights
Me of total 53 km Kailash Parikrama / Kora/round, 38 km must be walk/trek from Yamdwar to Chongdo. There is no any car/bus and jeep service available. So, everybody should walk or ride horse. It is also possible to hire pony and local porter for 3 days.
Your passport must have at least 6 months or more validation from travel date.
Though popular as Shiva's abode, we cannot see any temple of Lord Shiva but at Khojarnath there is the temple of Lord Ram, Sita & Laxman in Khojarnath. You can see Rashes Lake one the way from to going Darchen.
We provide Pressure checking machine, Oxygen level checking machine, enough oxygen bottle, Mask-regulator & Medicine Dimox (Latitude medicine) for safe journey.
Visit World's famous monasteries and Potala palace in Tibet
Visit historical cities of Tibet like Lhasa, Shigatse, and Saga
Driving Lhasa to Darchen is well and fine black road, same way back to Lhasa
Crossing highest pass Dolma La /Dorma La 3636m. While Kailash Parikram/Rounding 
Exploring of Manasarovar lake and surrounding 102km by blue bus
Itinerary
22 June 2018 Day 01: Arrival Kathmandu and transfer to Hotel
23 June 2018 Day 02: Rudra-Abhisek-sightseeing, Brief Kailash
24 June 2018 Day 03: Fly to Gonggar airport and drive to Lhasa
25 June 2018 Day 04: Sight-seeing Potala palace and Bharkhor
26 June 2018 Day 05: Drive Lhasa to Shigatse city 3782m-hotel
27 June 2018 Day 06: Drive Shigatseto Saga 4640meter- hotel
28 June 2018 Day 07: Drive- Manasarovar Lake full moon night
29 June 2018 Day 08: Morning Pooja & lunch drive to Darchen
30 June 2018 Day 09: Drive to Yamdwar and start walk Dirapuk
01 July 2018 Day 10: Trek to Dolma La 5636m.and Zuthul Puk
02 July 2018 Day 11: Trek to Chongdo & drive to Darchen hotel
03 July 2018 Day 12: Drive to Ali airport, fly-Lhasa, transfer hotel
04 July 2018 Day 13: Drive to Lhasa airport & fly back to KTM
05 July 2018 Day 14: Transfer to Kathmandu airport - departure
Group Joining Basis / Privet tour
NRIs / tourist: 5 Star Deluxe room Radisson (International standard) hotel in Kathmandu
Package A: American citizen per person USD 3900 + Visa fee USD 175 - Total USD 4075
Package B: Canadian citizen per person USD 3900 + Visa fee USD 155 - Total USD 4055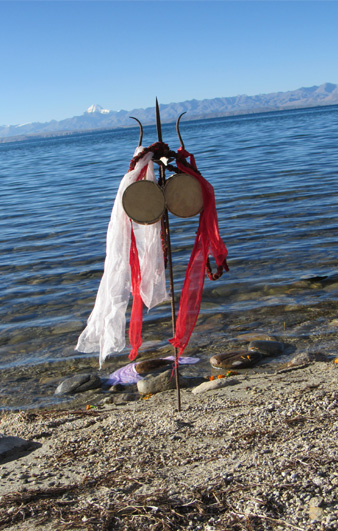 Package C: Other citizen per person USD 3900 + Visa fee USD 85 - Total USD 3985

Indian Passport holder Minimum 17 Person or more (age limit maximum 70 old)
Per Person INR 2, 55,000 (Indian currency)
Cost Includes
Arrival at Kathmandu & departure transportation from airport
Evening Arati Darshan, Next day Rudra Abishek, Hawan  in                                                            
Pasupatinath Temple, half day sights, Jal Narayan, Boudha
3 night  hotel stay at Kathmandu twin sharing basis all meal
All hotel / guesthouse during Kailash Manasarovar tour route
Pure vegetarian (breakfast, lunch, dinner) providing in Nepali
restaurant in Lhasa and fresh meal from Manas-Kailash Kora                                                     
prepare by Nepali cooks every day breakfast, lunch, dinner 
English speaking Tibetan guide and team leader from Nepal
Kathmandu – Lhasa and Ali–Lhasa –Kathmandu flight ticket
Sightseeing Lhasa city including Potala place of Dalai Lama 
Ali,  holy Manasarovar Lake, Darchen, Yamdwar, Ali by bus
We have oxygen cylinder, mask- regulator emergency use
We provide basic first-aid - kit box altitude sickness Diamox
We provide duffel bag, day bag and complete tour certificate
Kailash travel permit and Tibet visa for Mount Kailash tour
Rudra avishek hawan with 11Braman Poojari -Pasupatinath
Special Darshan in Pasupatinath after Rudra abhisek/hawan
1 Nepali Pandit in Mansasarovar  Lake to do pooja every day
Cost Excludes
Extra night hotel cost in Kathmandu, Nepal
All beverages in Kathmandu & Kailash  tour
Travel Insurance for all Kailash tourists/yatri 
Expenses Emergency evacuation helicopter
Horse riding cost for Kailash Kora / Parikrama
Addition cost caused any political disturbance.
Any additional cost due to natural calamities
unforeseen situation Kailash Manasarovar tour
Kailash Tibet or extra stay cost in Kathmandu
Packing list for Kailash Manasarovar Tour
Back pack for 3 days Kailash Parikrama/Kora
Enough warm clothing for Kailash Yatra /tour
Basic medicines (minor injuries or life saving kits)
Regular medicines that you have been prescribe
Toiletries kit (Shop, Shampoo, Toothpaste brush)
Water bottle / Thermos flask, hot water (2 litters)
Sport shoes good for walk, gloves, torch light
Woolen socks (minimum 4 pairs), Sunglasses
Thermo cot undergarment, sun lotion, cold cream
(Shirt, pants which is easier to be while do Kora)
Rain coat or Umbrella, walking stick for 3 days 
Sweets, Zinger/garlic candies, dry fruits and etc
FITNESS
Kindly consult your doctor and get yourself examined for Spiritual Kailash Manasarovar tour
As Holy mount Kailash & Lake Manasarovar is situated at high altitudes please start exercises like walking, jogging, yoga meditation and other breathing exercises in order to have a make successful holy tour
INSURANCE
Kindly get yourself a Travel medical insurance for this Kailash Manasarovar tour. Please make sure you cover yourself for emergency evacuation (helicopter), road transportation and hotel accommodation in the insurance.
Every Yatri have Life, Medical, Rescue Jeep or Helicopter insurance before getting enrolled in Kailash Tour. Do insurance at home country.
HEALTH PRE-CAUTION
Oxygen is less at higher altitudes. The inclement weather and high altitude induces certain illness generally not encountered over the plains. Headache, nausea, lassitude, lethargy, breathlessness, general uneasiness [malaise], high irritability, light loss of balance, disorientation, incoherence and insomnia are a few. It is common to all irrespective of the age, sex and physical fitness. Gradual acclimatization is the best answer. Tranquilizers, sleeping dose and strong anti-biotic must be avoided. Some of symptoms indicate that the body mechanism is readjusting to new environments. The best idea is deliberately slow down all the activities and follows the following rules: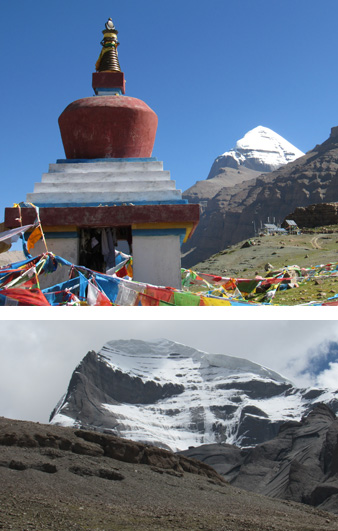 1. Relax-do not exert, be excited, make rest
2. Reduce talking each other
3. Walk slowly – adopt one third of your speed and space.
4. Keep your load light.
5. Walk for 30 minutes and rest for 5 minutes
6. Whenever you feel uncomfortable, just stop; rest and relax.
7. Ignore the sudden outbursts of fellow pilgrims and avoid arguments.
8. Observe silence with smile.
9. Never go too high and too fast.
10. Consume plenty of liquids; never proceed with an empty stomach.
11. Chant a prayer or visualize everything around to suit your pleasant thoughts or put on the earphones and listen to your favorite music, Bhajans, chanting etc.
12. Be careful not to catch a cold. It is better to be over clothed than under protected. En-route avoids taking bath or drinking water from Lake Streams or rivers, as your system is not conditioned for this.
13. Protect yourself against dust and direct sunshine during the long stretches of driving. Face, feet and hands must be well protected.
14. The uneven ground, steep slope and slushy banks are full of potholes. Do not combine walking and sightseeing together.
15. Always listen to your guide or the one with experience. Never leave the group.
16. On this trip, over exertion is to be avoided and drinking plenty of fluids is recommendable. During winter
Cancellation Policy
50% cancellation charges of the rate package cost incase cancellation is received between 7 – 15 days of departure.
No refund in case cancellation is done after your Kailash permit and Tibet visa.
A client on his/her own will make no refund or adjustment in the event of interruption of journey after commencement of the tour.
Any changes in given itinerary requested by the client will be on chargeable basis.
Extra accommodation in Kathmandu over 2 nights for Helicopter and 3 nights for via Lhasa as per itinerary due to early arrival from home or Kailash, rescue charges, medical bills are bill direct to Yatris.
If the trip is disturbed in case of Visa/ permit problem create from Tibet, or any other reason, which is not in our hand, it is client's own risk and clients pay all the expenses.
During the Kailash Manasarovar tour, if any Yatri in case of sick or will cancel trip not doing complete tour, the package cost is 100% not refunded. 
Important Notice for Indian passport holder
Indian passport holder can get visa only from Chinese embassy in New Delhi.
Original passport should be sent to New Delhi office, 5 days before departure.
If Indian passport holder resident out of Indian, Should be present 5 days before in New Delhi, India
You can travel to Kathmandu from India with your Voter I.D. You will get your passport just a day before Kailash Tour.
If Chinese Embassy delays for giving Tibet visa, the cost of days exceeding original itinerary should bear by travelers.
Hotel Name Nepal and Tibet Kailash
Kathmandu: Hotel Radisson/ Gokarna Resort or similar
Lhasa Tibet: 5 Star Lhasa hotel / Hotel Reggi (Full Meals)
Hotel Gesar: 4 star in Shigatse (Full Meals)
Hotel Bramaputra/Similar: 4 star in Saga (Full Meals)
Manasarovar Lake: Guest house or mud houses
Darchen: 4 star Himalayan Kailash Hotel – Wifi (Western style) room
Dirapuk: Normal guesthouse: Shishapangma Guesthouse (Parikrama first day)
Zuthulpuk: Normal guesthouse (very basic) (Parikrama second day)