Manakmana – Tribeni – Balkimi Ashram–Muktinath Tour 2017
Tourism is the identity of Nepal. There are several touristic attractions under this identity. Religious places also fall into the series of those attractions. One of such is the popular religious, touristic destination, Balmiki Ashram. This ashram reflecting the life story of the author of great Hindu Epic, The Ramayana along with its godly characters, places holding the plot stories, heritages, has a distinctive religious glory among us. Because of this both internal and foreign tourists come to feel the spirituality of this sacred site.

The journey to this Ashram begins from Kathmandu passing Thankot, Muglin, Narayanghat via west highway passing Badharghat market, Gopigunj, Beltari, Raninagar covering 26 km distance and extends to Tribeni Market. This is a very famous holy place, Tribenidham. The adjoining point of three rivers namely, Sunbhadra, Tamsa and Narayani, Tribeni has a unique religious significance. There is a huge fair during Maghe Sankranti and Shivaratri. Every year, thousands of pilgrims from different places of Nepal as well as India come to visit this fair. There is Gajendra Mokshya Dibya Dham nearby Tribeni just at a distance of 5 minutes. This pilgrimage symbolizing Lord Bishnu on heron imparts big religious importance among Hindus.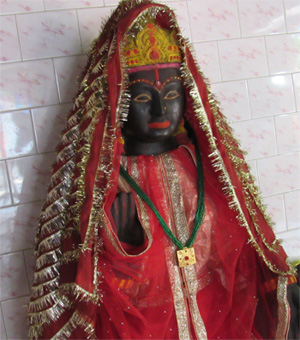 According to the ancient legend, once Gajendra, an elephant was into the Narayani River. A crocodile attacked Gajendra and there began war between these two for a long time. Gajendra got defeated and prayed Lord Bishnu for help. Lord Bishnu appeared in a heron and decapitated the crocodile by his Sudarshan Chakra (Wheel) and blessed Gajendra with Salvation. Hence, the name of this place is said as Gajendra Mokshya Dibya Dham. It is believed that one can get rid of all miseries, pain after having divine view (Darshan) of this place. Also, performing death rituals (Shraddha) is believed to provide the departed soul with ultimate Salvation: Mokshya.

From the natural perspective, there is huge forest of Chitwan National Park just opposite to Narayani River in Gajendra Mokshya Dibya Dham with a beautiful view of Mount Annapurna just north to it. There is a unique glass made temple of Radha Krishna in the pilgrimage premises which is also called as 'Sismahal'.

There is a huge forest of Chitwan National Park just the side beyond Tribeni Burial (Ghat). Balmiki Ashram is inside the Chitwam National Park at Gardi V.D.C., Ward No.9, chitwan district of Nepal.

25 minutes boating takes us to the opposite bank of Narayani Rivr. There is no bridge at Tribeni River so we should cross the river via boating and walk 2km through jungle way to reach Balmiki Ashram. In order to reach the Ashram by vehicle we should cross the Narayani Bridge, complete formalities at Indian boarder, pass through the jungle way of Champaran region of Bihar state of Indian land on pitched road up to Nepal-India border and following rough road from Nepal side after that.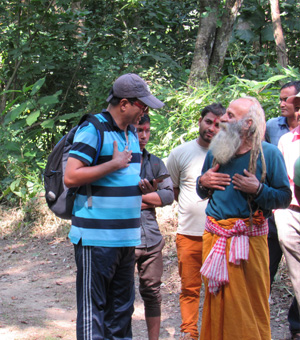 We can see remainder of the sons of Lord Ramchandra, Lava and Kusha, Goddess Sita and Sage Balmiki at Balmiki Ashram which is at the distance of 15 km from Narayani Barrage. River Sunbhadra divides Nepal-India border and we enter into Nepali land after crossing it. Here, we can see a typical Nepali style Gate. Sage Balmiki has obtained knowledge meditating here. There is no any settlement and we can still see the remaining of walls and bricks at this place. It is predicted that Balmiki Ashram has occupied 112 km of area. Balmiki was said to be a great sage (Maharsi) and this Ashram is a symbol to Maharshi.

There is an age old belief that before turning into a sage, Balmiki was a highway robber called Ratnakar. He started hunting to feed his father, mother and family. One day he met sages on the way. Then, they asked Ratnakar whether the family for whom he was robbing others will partake in his sins also. Ratnakar went to ask the same question to his family members. He became guilty and again went back to Sage Narada and other Sages to find out the way to escape from the sins he committed. Narada taught him to chant the name of Lord Rama, Rama, Rama. He slowly learned to chant the sacred name of Lord Rama, meditated for long time and obtained highest level of knowledge and wisdom. Renouncing greed, anger, love; the reason behind the pain, misery of this worldly life, he became equivalent to Lord Brahma.

He was influenced by the godly character of Ram and could not concentrate upon anything except meditating for godly characters. But, his family didn't believe upon this. There were no rashes (Dhamiro) in his body; he surprised everyone entering into the world of meditation. 'Dhamiro' means Balmiki in Sanskrit language and in this way Daicoit Ratnakar turned into Sage Bamiki.

There was a huge oblation with 88,000 sages at Balmiki Ashram when Lord Ram, Sita and Laxman were executed in forest for 14 year (Banbas). Sita noticed the smoke coming from oblation and heard Sages chanting then she insisted Ram to go there but Ram said that they should donate at least something in that oblation but they had nothing so they didn't went to that Pooja.

After returning from 14 years of forest stay, Ram sends his spy to find out people's attitude towards him. Spy returned with a situation that one woman was accused by her husband because she stayed out for 2 days. Her husband said that he is not Ram to purify Sita who stayed with another man in the name of Fire Examination (Agni-parikshya) and accept again. That woman came to Ram seeking justice. Being bound within duties and responsibilities, Ram decided to abandon Sita and asked Laxman to send her to Balmiki Ashram. After knowing all this, Sita tried to commit suicide by jumping into river but Sages of Ashram saved her and brought at Ashram. Balmiki recognizes her as Sita and console her. Sita was pregnant during that time. Ram also confined not to do second marriage. Two sons, Lava and Kusha born, brought up and given education at Balmiki Ashram.

There is elixir well (Amrit Kuwa) nearby which is said to have filled with water from the sea level up to the summit of Mount Everest. But, now there is no water in this well and it is under the preservation of Nepalese army. There are several myths about this well. Some people say that this well was formed to save the devils during the war between God and devils. This is a grinding stone of goddess Sita in which she used to grind herbal medicines, Sandal-wood. Still women want to grind in this stone believing it will keep healthy and strong body and also adds taste in food.

The map drawn in this stone is Earthquake resistive. People built houses following the same map during that time. This stone is called 'Khapaiche'. This is a place where 88000 sages performed oblation together at the same time for the sake of world environment. It is said that Ghee used to flow from this hole. But, now we can only see a stone-made empty pond here.

This is a birthplace of Lava and Kusha or can be said the maternity home during that age. Lava and Kusha were bathed in the nearby stone and warmed up in the smoke of oblation done for the sake of world environment. Likewise, this is a school of Lava and Kusha. They used to swing in the branch of the climber, Amarlata that regenerates again and again. That tree is still here so fresh spread around.

Moving ahead we can see two rock inscriptions which are 3 times in depth than the outer appeared part. There are faded Sanskrit couplets about Ramayana that cannot be read now. There is an oblation gate nearby and this is place for earthen pitcher of goddess Sita. Still 5 pitchers can be adjusted there. This is Ganesh Temple where Sita used to worship Lord Ganesh.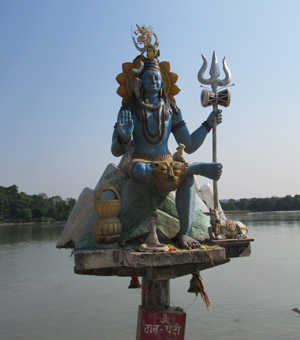 We can see the form of Lord Bishnu in a stone and it is believed that wearing locket made up of that metal and earring with a symbol of Sudarshan Chakra always saves us from accidents. Lava and Kusha got education, got bow knowledge and learned life skills at this school from sage Balmiki. We can still see remaining, stone at this place. People write their names in the stone with a belief of getting opportunity to continue their education even in their next birth. This is an important temple at Balmiki Ashram. The major temple when goddess Sita entered into the dense forest has been built beautifully. Likewise, there is another temple of Harihar that is a united temple of both Lord Shiva and Lord Bishnu. Similarly, there is an unclad idol of Hanuman at the front. Usually, Hanuman has Sumeru Parvat at his hand in almost all the pictures and idols but here he has carried nothing. The idol of goddess Sita is very beautiful here. We can see idols of Lava, Kusha, at this side of this idol with some offered money. Balmiki obtained Brahma-knowledge in the place nearby these idols. It is an important religious site for Hindus. Now, we are inside the Harihar Temple at Balmiki Ashram.

This is Durga Mandir. There are Satysnarayan, ShivLing, a rare idol of Brahma, Sukha Sagar, and two huge Ramayana Epic books placed here. This is an idol of Lord Narad. Similarly, we can see the idols of Lord Ganesh, goddess Laxmi, Lord Hanuman, Lord Sesh Narayana and the 1q0th face form of Lord Bishnu. Lord Bishnu has taken 9 face forms, Mokshya, Kumra, Baraha, Narsingha, Waman, Pashuram, Ram, Krishna and Lord Buddha. There are the idols of Gaurisankhar, Anandi Narayan and Nawagraha and there is a big idol at the middle. There is a trident at the right side which is called the weapon of Lord Sankhar. The left part is called knowledge-Trident and this part is called weapon of Shiva. Harihar is said to be the unification of Lord Shiva and Lord Bishnu. It is also the origin of Durbar family and Mirgu Family. Balmiki Ashram holding the lively form of the story of the great Hindu epic, The Ramayana is equally important from all religious, cultural, and tourism perspective.
Itinerary
Day 01: Arrival KTM, transfer to hotel, evening Arati Darshan Pasupatinath
Day 02: Morning Darshan Pasupatinath, Doleswor, Budhanath, Swayambu
Day 03: Drive to Kurintar, cable car -Manakamna, Puja drive-Narayanghat
Day 04: Drive to Tribeni & visit Balkimi Ashram, back Naryanghat night halt
Day 05: Drive to Muglin, Dumre, Damauli, Khaireni and final reach Pokhara
Day 06: Full day sightseeing in Pokhara Darshan Tal Barahi, Bindabashini
Day 07: Morning fly to Jomsom-local jeep to Muktinath Puja back-Jomsom
Day 08: Morning Fly to Pokhara, then Fly Kathmandu, transfer hotel-airport
Day 09: Visit Dakshinkali Temple, Big shiva Statue in Saga, Bishnu temple
Day 10: Free day in Kathmandu, Shopping slovenlier or relaxing in hotel
Day 11: Transfer Kathmandu International airport for your final destination
Trip Cost
1 Person USD 2095 (5 star hotel in Kathmandu city)
1 Person USD 1500 (3 star hotel in Kathmandu city)
2 Persons, Per Person USD 1800 (5 star hotel in KTM)
2 Persons, Per Person USD 1400 (3 star hotel in KTM
3 Persons, Per Person USD 1695 (5 Star hotel in KTM)
3 Persons, Per Person USD 1275 (3 Star hotel in KTM)
4-6 Persons, Per Person USD 1495 (5 Star hotel in KTM)
4-6 Persons, Per Person USD 1175 (3 Star hotel in KTM)
7-10 Persons, Per Person USD 1395(5 star hotel in KTM)
7-10 Persons, Per Person USD 1000 (3 star hotel in KTM)
Cost Includes
Arrival and departure transfers in Kathmandu airport
Full day in Kathmandu, Pokhara guided sightseeing
Manakmana Darshan, Tribeni & visit Balkimi Ashram
3 or 5 star hotel with bed & breakfast in Kathmandu
01 star hotel in Jomsom with full meals vegetarians
Pokhara–Jomsom-Pokhara – Kathmandu with flight
Jomsom-Muktinath & back to Jomsom by local jeep
Whole trip will be guide for your sightseeing and tour
all entrance fees for sightseeing in Kathmandu-PKR
Tour will be by car/Jeep/Hiace depend on group size
Fare well dinner with Nepali dance and songs in KTM
Cable car Ticket for Manakamana Darshan and Puja
Cost Excludes
Personal expenses
Lunch and dinner
Tips for guide/driver
Any extra tour
Everest Flights