Mount Kailash and Mansarovar tour with Everest Base Camp
Mount Kailash, situated at China's autonomous region of Tibet is the symbol of fortunate and good luck to the devotees belonging to The Hinduism, The Buddhism, and The Jainism and The Bonpo religion people. Most Hindus believe Mount Kailash to be the exclusive abode of Supreme Hindu god, Lord Shiva and Goddess Parvati. It is believed that completing the pilgrimage to Kailash and Mansarovar Lake, one can attain the ultimate Salvation: 'Mokshya' from all the known and unknown sins ever committed in life. However it is not easy to accomplish this pilgrimage because of several hurdles such as, unusual terrain, extreme landscape and high altitude risk. To circumambulate the 6714 meters elevated Mt. Kailash with 53 km circumference is consider being the best way to earn good merits called 'Punya' in life. Tibet has become a world famous touristic destination having huge range of Trans Himalaya and Mt. Kailash, the source of prominent rivers of Asia namely, The Brahmaputra, The Indus, The Ganges and The Sutlej is one of them.

Mansarovar Lake:
Comprised of two Sanskrit words 'Manas' and 'Sarovar', Lake Mansarovar is the source of enlightenment for Buddhist. Hindus believe it as a bathing pond of Lord Shiva and Goddess Parvati. The gigantic lake situated at an elevation of 4580 meters holds age long religious and spiritual significance not only to Hindus but to Buddhist as well. Circumambulating the Lake is believed to be the way of carving the straight path to Heaven (Shiva's Place). Also people believe that if one drink the water of the lake and take dip in its cold water will be purify from sins of 100 births. The view of high lamas and monks praying, chanting and dipping into the lake inspires other devotees to continue their circumambulation though it is a difficult procedure. People from across the world aspire to visit Mount Kailash and Mansarovar at least once in their life time and feel the holiness of this place.

Some pilgrims wanting to visit Everest Base camp (5200m) from Tibet Side after completing this pilgrimage can be taken there, where they can have superb views of snow bathed Himalayan peaks, beautiful landscape and an insight into the Tibetan Sherpa culture. Despite of several problems such as, unpredictable weather conditions, tough landscape, rocky mountain trails and slippery paths covered with snow, thousands of tourists all round are eager to venture this camp. There is crowd of mountain climbers' and tents in the Northern base camp than in the southern side during April and May. Rombuk monastery and settlement is below Everest base camp, where we can find lodges & hotels. Monterosa Treks and Expedition, located at Thamel, Kathmandu organizes trip to these paradises every year. If you want to visit these places, please feel free to contact us soon. We are always at your service. 'Atithi Devo Bhava'
Important highlights
Of total 53 km Kailash Parikrama / Kora/round, 38 km must be walk/trek from Yamdwar to Chongdo. There is no any car/bus and jeep service available. So, everybody should walk or ride horse. It is also possible to hire pony and local porter for 3 days.
Age limit for enrolling Kailash tour is 12-65 year old for Indian passport holder. 12-60 year old people can only do Kora and 61-65 year old people can travel only up to Yamdwar.  Although you don't need any heath certificate from doctor you need to be physically fit for Kailash and Mansarovar tour.
The minimum age restriction for other country passport holder is 12 years old while there is no such maximum age limit. 
Your passport must have at least 6 months or more validation from travel date.
Though popular as Shiva's abode, we cannot see any temple of Lord Shiva but at Khojarnath there is the temple of Lord Ram, Sita & Laxman in Khojarnath. You can see Rashes Lake one the way.
Hor - Chiu Gompa (Nearby Manasarovar Lake)- Darchen - Yamadwar - Darchen – Hor. Eco vehicle blue bus must be used compulsorily for travelling which we can get from Nagri Tourism of Bureau in Darchen.
Every Yatri have Life, Medical, Rescue Jeep or Helicopter insurance before getting enrolled in Kailash Tour. Do insurance at home country.
We provide Pressure checking machine, Oxygen level checking machine, enough oxygen bottle, Mask-regulator, Altitude Gamo bag (Lifesaving chamber bag) & Medicine Dimox (Latitude medicine) for safe journey.
Kailash –Mansarovar Holy Yatra with Everest Base camp 
20 May 2018 Day 01: The staffs of Monterosa Treks and Expedition will welcome you at the Airport after your arrival and take you to hotel. In the evening time, you can make a fresh visit to the local market. Dinner and a night stay will be at the hotel.

21 May 2018 Day 02: Early in the morning after breakfast, visitors are taken to Pashupatinath Temple and Budanilakantha Bishnu Temple for sightseeing and Darshan (divine view). Then, they return back to hotel for packing and orientation with documentary show about the Kailash Mansarovar Trip.

22 May 2018 Day 03: On this day, we begin our ultimate trip. Driving for 6 to 7 hours (117km) from Kathmandu passing Kalikasthan, Ramche, Dunche we reach to Shybrubeshi in our coach. There are fine hotels and lodges with Nepali and Indian cuisine for tourists at Shybrubesi. We have our Lunch at Trisuli bazaar.

23 May 2018 Day 04: Shyabrubesi – Kerung: Kerung is our today's destination. After completing all the visa permit formalities at Nepal Immigration Office, we continue driving for 15 minutes to reach Rasuwagadi and cross the Friendship Bridge and stop at Tibetan immigration office, where Tibet visa for Kailash Visit will be checked thoroughly. Travelers need not to worry as our Tibet guide will be there waiting for us with Kailash tour/Yatra permit and also deals with all the immigration formalities as well. Then, you will be taken in Tibetan bus / van or Jeep to Kerung city (2900m) which is 24km far from boarder. Kerung city consists of Beautiful local Tibetan settlement with simple accommodation and fine guest houses for tourists.

24 May 2018 Day 05: Kerung – Saga: Our today's journey is from Kerung to Saga city. We can see Peku Tso Lake, Salt Lake (Nunilo Tal) on the way to Saga. It is 6/7 hours long drive. Nomads looking after hundreds of sheep and yaks can be seen here. It looks interesting. Travelers will be served warm lunch box on the way and we again stop for lunch near Pekhu Tso Lake or somewhere. Driving again we come to cross Bhramha Purtra River (Sangpo) on the way to Tibetan city Saga.

25 May 2018: Day 06: It is a full rest day for our travelers.

26 May 2018 Day 07: It is the exciting day of the trip as we can have first glance of Mount Kailash and Mansarovar Lake. We move to Mansarovar Lake from Saga. It is the distance of 470 kilometers and takes 7-8 hours drive. We manage for hot lunch box for our yatris on the way and again stop somewhere around for lunch. Driving to Mansarovar Lake, we reach to Hor. We begin circumambulation of Mansarovar Lake from Hor. It takes 3 to 5 days just to make one round on foot. Chiu Monastery is a place of night stay today.

27 May 2018 Day 08: Darchen is our destination for this day. At first, we will choose a special spot for holy bath at Mansarovar Lake early in the morning and water, flowers, money to the God doing Pooja of Lord Shiva & Parbati. Devotees can be seen meditating and reciting the names of their ancestral gods, performing hom (offering grains mixed with butter to the fire) in the name of gods, in order to purify their known or unknown sins they have ever committed in their life. Pilgrims do Aarati (oil-fed lamps) and pray god with great devotion. We take our lunch at around 2 pm and drive to Darchen for a night stay. Asthapada Excursion can also be done if they want to.

28 May 2018 Day 09: Darchen – Dirapuk: Drive to Yamadwar (Gate of heaven). We start walking to Dirapuk (4890 meters - 11 kilometers) – Monastery. Pony & local porter can be hired for 3 days from here. But, pilgrims must pre-inform us for this. Kailash Parikrama becomes easier with pony and porter. It is better to start early as it is long walk of 5-6 hours. Yak will load our stuffs. The north face of Mount Kailash is seen perfectly from Dirapuk. Mud house will be our lodge for this night.

29 May 2018 Day 10: Dirapuk to Zutulpuk: (4790 meters - 22 kilometers) – Today is a crucial day of the trip as we have to pass Dolma-La or Dormal Pass. It is situated at an altitude of 5636m above the sea level. Weather at this place is very unpredictable and snowstorm can fall any time that's why we try to start our journey as early as possible. Ganesh Kund falls on the way before pass. But, pilgrims must be careful as the way is quiet slippery. From Dirapuk, we should climb upward slope to Dorma La pass and again climb downward steep to Shapje Datok & after that flat path till Zutulpuk monastery. Again, our night stay will be in a mud house.

30 May 2018 Day 11: Zuthulpuk to Mansarovar Lake: Early in the morning, after having our breakfast, we move downward to Chongdo for about 3 hour. Then, we drive to Darchen that is our lunch spot for today. From there, we drive to Mansarovar Lake. Pilgrims stay overnight to enjoy the full moon night. Full moon night in Manasarovar Lake.

01 June 2018 Day 12: Manasarovar Lake to Saga: Fetching the sacred water (Jaal) of Mansarovar Lake, pilgrims drive to Prayang, Dongba and Saga. Saga is a place for our night stay.

02 June 2018: Day 13: Saga - Tingri: From Saga, we start driving to reach Tingri but it is quiet long drive. We spend overnight at Tingri.

03 June 2018: Day 14: Tingri – Everest Base camp – Tingri: We explore Mount Everest Base camp (5200m), the root of the world's tallest peak Mount Everest on this day. We drive back to Tingri from here for a night stay.

04 June 2018: Day 15: Tingri - Zonkha: From Tingri, we again drive back to Zonkha for our night stay.

05 June 2018: Day 16: From Zonkha, we drive passing Kerung to reach Nepal – Tibet boarder, check all Tibet visa and cross boarder and drive to Shybrubesi and spend our night there.

06 June 2018 Day 17: Drive to Kathmandu via Trisuli bazaar and transfer to hotel

07 June 2018 Day 18: This day is your final departure day. You will be taken to Tribhuvan International Airport from hotel and farewell by our staffs. In this way, Kailash- Mansarovar trip terminates.
Tour Cost (Tourist or NRIs/ Tourist)
Tour Cost for Non Residential Indian (NRIs) Foreigners/ tourists
Package A: 5 Star Deluxe Hotel Kathmandu USD 3500 per person Hotel Radisson/Similar
Package B: 4 Star Deluxe Hotel Kath. USD 3300 per person Hotel Vaishali / Similar
Package C: 3 Star Deluxe Hotel Kath. USD 3000 per person Manang / Marshaydi/ Hotel Arts
Single Supplementary US$ 400, US$ 300 & US$ 250 who use single bed room

Package cost for Residential Indians (Indian Passport holder)
Group size Minimum 17 Persons or more (Follow rules of Tibet Tourism Bureau 2014)
American Currency $ 1 = INR 62.00 Valid or less

Standard Tour to Kailash INR 1,60,000 Per Persons (Standard service) 3 star hotel in Kathmandu and guest houses,
mud houses in Kailash Yatra. If use jeep is addition cost INR 10,000 (Ten thousand extra more)

Deluxe Tour to Kailash INR 1,70,000 per Persons (Deluxe service) 4 star hotel in Kathmandu and guest houses, mud houses
in Kailash Yatra. If use jeep is addition cost INR 10,000 (Ten thousand extra more)

Supper Deluxe Tour toKailash INR 1, 80,000 Per Persons (Super deluxe service) 5 star hotel in Kathmandu and 3 star hotel ,
3 star in Saga, 4 star hotel in Darchen, other places are guest houses, Mud houses in Kailash Yatra

If use jeep is addition cost INR 10,000 (Ten thousand extra more)

Single Supplementary Per Person INR 5000 for 5 star hotel
Single Supplementary Per Person INR 3500 for 4 star hotel
Single Supplementary Per Person INR 3000 for 3 star hotel

Extra Service If required
Mountain flight / Everest Flight is INR 7000 (USD 225) per person

Extra cost if required for Kailash:
Horse ride during the Parikrama 1 horse for 3 days USD 400
(Directly payable to the Tibetan guide)
Porter for carrying small bag for 3 days round Kailash USD 250
Tour Cost (Tourist or NRIs/ Tourist)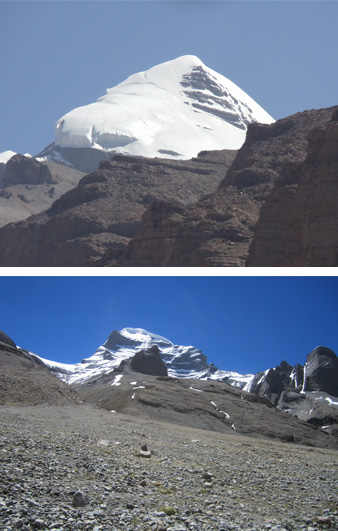 Tour Cost for Non Residential Indian (NRIs) Foreigners/ tourists
Package A: 5 Star Deluxe Hotel Kathmandu USD 3500 per person Hotel Radisson/Similar
Package B: 4 Star Deluxe Hotel Kath. USD 3300 per person Hotel Vaishali / Similar
Package C: 3 Star Deluxe Hotel Kath. USD 3000 per person Manang / Marshaydi/ Hotel Arts
Single Supplementary US$ 400, US$ 300 & US$ 250 who use single bed room

Package cost for Residential Indians (Indian Passport holder)
Group size Minimum 17 Persons or more (Follow rules of Tibet Tourism Bureau 2014)
American Currency $ 1 = INR 62.00 Valid or less

Standard Tour to Kailash INR 1,60,000 Per Persons (Standard service) 3 star hotel in
Kathmandu and guest houses,
mud houses in Kailash Yatra. If use jeep is addition cost INR 10,000 (Ten thousand extra more)

Deluxe Tour to Kailash INR 1,70,000 per Persons (Deluxe service) 4 star hotel in Kathmandu and
guest houses, mud houses
in Kailash Yatra. If use jeep is addition cost INR 10,000 (Ten thousand extra more)

Supper Deluxe Tour toKailash INR 1, 80,000 Per Persons (Super deluxe service) 5 star hotel in Kathmandu
& 3 star hotel , 3 star in Saga, 4 star hotel in Darchen, other places are guest houses, Mud houses in Kailash Yatra

If use jeep is addition cost INR 10,000 (Ten thousand extra more)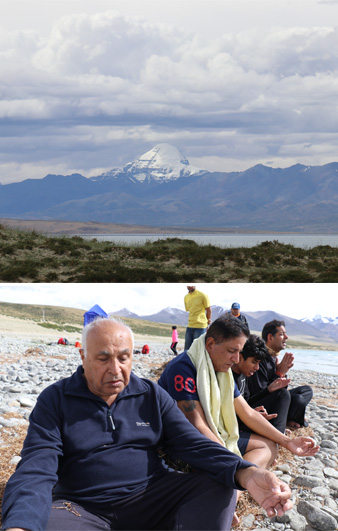 Single Supplementary Per Person INR 5000 for 5 star hotel
Single Supplementary Per Person INR 3500 for 4 star hotel
Single Supplementary Per Person INR 3000 for 3 star hotel

Extra Service If required
Mountain flight / Everest Flight is INR 7000 (USD 225) per person

Extra cost if required for Kailash:
Horse ride during the Parikrama 1 horse for 3 days USD 400
(Directly payable to the Tibetan guide)
Porter for carrying small bag for 3 days round Kailash USD 250
Cost Includes
Arrival to Kathmandu airport, transfer to hotel, welcome drink
Evening visit to Pashupatinath temple for Arati, puja, Darshan
Pashupatinath & Budhanilkantha (Sleeping Bishnu) Darshan
Mt. Kailash orientation for Kailash and Manasarovar lake tour
3 nights hotel in Kathmandu (double-bed room sharing basis)
3 times meal (breakfast, lunch, dinner) pure vegetarian meal
Drive Kerung-Tibet border-Kathmandu by private tourist coach
We serve guest house- mud house Kailash-Mansarovar Yatra
Travel permit for explore Mount Everest Base camp north side
Nepali team leader with fluent speaking English/Hindi language
Chef(who can prepare Indian-dishes as per your requirements)
Cook, cook helper and full support Nepali staff (Sherpa guides)
Deluxe luxury air-condition coach bus or Hiace, minivan in Tour
Support truck for carry food- Kailash-equipments, Nepali staff
Yak and yak man for round Kora (Parikrama) Kailash Yatra/tour
Gamow. Its bag-life saving device in case of altitude- sickness
Oxygen cylinder with mask and  regulator for emergency use
Kailash basic first aid kit box, altitude sickness medicine Dimox
Life medical insurance for Nepali Kailash staff and team leader
A duffel bag and day pack for Kailash Mansarovar tour / Yatra
Kailash travel permit & Tibet visa for Kailash -Mansarovar tour
We arrangement special fire for Hom Pooja at Mansarovar Lake
Those who book deluxe 5 star hotel in Kathmandu-we provide 3                                                                                                                 
star hotel  Saga 3 star, Dongba 3 Star 4 star in Darchen Kailash                                                                                                         
Himalayan & other places normal guest house or mud houses
We provide tar poling privet toilet tent outside - guesthouse/hotel
Cost Excludes
Additional personal expenses for Kailash tour
Rescue jeep, any other expenses if required
Personal equipment & stuffs for Kailash tour
Visa and re - entry visa for Nepal
Tips for Kailash staff, drives, guide
Any other additional cost for Yatra
Nepali tourist visa information
Packing list For Kailash Yatra
Small back pack for 3 days Mt. Kailash Parikrama
Enough warm clothing for Mt. Kailash Yatra / tour
Basic medicines (for minor injuries / lifesaving kits)
Any regular medicines that you have been prescribed
Toiletries kit (shop, Shampoo, Toothpaste, tooth brush)
Water bottle /Thermos flask for hot water (2litters bottle)
Sport shoes better for walking 3 days Kailash Parikrama
Gloves, Woolen socks (minimum 4 pairs), hand clove
Wool / Thermo cot undergarments, wind proof jacket
Comfortable shirt and pants for doing Kora
Sunglasses, Sun lotion/cold cream, Torch light, rain coat
Umbrella, walking stick, Sandal for use evening & morning
Sweets, Zinger / garlic candies or dry fruits, lozenges, etc
Tour Cancelation Policy
Cancellation made up to 7 days before the trip departure will incur a 50% fee of the total trip cost
Cancellation made less than 1 week before departure or upon arrival in KTM will be charged full price