Manakama and Muktinath Tour 2017 / 2018
The entire Hindu civilization, culture, religion and mythologies of this universe consider Muktinath as one of the five major pilgrimages and an important Peethas among 51 Shakti Peethas (Shakti Peethas are sacred abodes of Shakti formed by the falling of body parts of the corpse of Sati Devi when lord Shiva carried it and wandered). This grandeur of holy belief is situated in Mustang district, popularly known as a district beyond Himalayas of Nepal. Every year, thousands of devotees come for a divine view and worship of Muktinath Temple with a belief of attaining Salvation.

The journey from Capital city Kathmandu to Muktinath becomes easier with the religious and spiritual feeling among us. Further, we destined the famous temple of Manakamna Devi on the way before reaching Muktinath. Travelling through a snaky curved road from Thankot and passing via bank of Trishuli River, we stopped at Kurintaar and get into cable car to reach Manakamana Temple premises. It is the first cable car of Nepal. The views of greenish Trishuli River, beautiful hills looks amazing from Cable car.

After 15 minutes cable car ride and 5 minutes walk, now, we are at Manakamana Temple. This temple of Manakamana Bhagwati is a center of religious faith for Hindus. Our wishes are believed to get fulfilled after worshipping Manakamana Devi. Because of this, every year, thousands of Hindu devotees come for the divine view (Darshan) of Manakamana Temple from Nepal, India and other parts of the world. Some people offer flowers, garlands, lighten oil laps, stick light, some people also sacrifice animals such as he-goat, cock etc and some people fly pigeon (the symbol of piece) to make Manakamana Devi happy so that she will bless them with their wishes fulfilled. This temple is usually crowded with devotees and it is being more popular day by day. The beautiful mount Manaslu to the northern side of the temple and the chain of hills around has boost up the pride of Manakamana Temple.

After visiting Manakamana Temple, we precede towards Pokhara with the aim of reaching Muktinath. Passing Mugling, Dumre, Tanahu, we reach to Pokhara after 9 hours bus drive. Situated at the lap of Mount Annapurna, Pokhara is highly decorated with natural beauties. It is a best place from tourism point of view. Visitors are fascinated by the very beautiful Fewa Lake with the reflection of Shadow of Mount Annapurna and Mount Machhapuchre. They are never bored to do boating here.

The Talbarahi temple located at the middle of Fewa Lake has added up to the religious significance of this place. Tourists become delighted to visit this place. This temple is a major attraction of touristic city Pokhara and it is usually crowded with devotees. Likewise, Bindabasini temple is another holy place at Pokhara. Gracing the charming views of Pokahara into our eyes and heart, now we move to our final destination Muktinath. 25 minutes flight takes us to Jomsom, which is a beginning spot to Muktinath. After managing everything for the trip, we get into a jeep and drive towards Muktinath. Driving on the bank of Kaligandaki River, Kagbeni and steep up towards Jharkot, we reach to a place called Ranipauwa at around 2 hours. By walking for 10 minutes from there, we reach to peaceful Muktinath Temple.

Among the several pilgrimage sites of Nepal, Muktinath is the second popular after Pashupatinath Temple. It is 389 km far from Kathmandu. Situated at an elevation of 3750m, Muktinath is a sacred place for Salvation called Mukti Kshetra by Hindus whereas; Buddhists worship it as Chuming Gyaspa. It is believed that one can get rid of all known or unknown sins after having divine view (Darshan) of this temple. It is also a common sacred temple for Hindus, Buddhists, Jain and Vaishnav religion followers. There are 108 taps at this temple and bathing in its pure water is believed to grant punya (merits) to devotees.

Pilgrims at first take bath in these taps then only enter into the temple to worship. According to Hindu scriptures, performing death ceremony (Shraddha) of deceased ancestors at this temple opens door of heaven for their soul so people also perform shraddha at this temple premises. It is Jwalamai temple situated west to Muktinath, where we can see flame burning above water all the time. This temple is another attraction at Muktinath. Besides that, Damodar Kunda (Pond) is another holy place at Muktinath.

Muktinath trip is quiet difficult so it is better to travel via helicopter. Travelling from Kathmandu to Pokhara and spending one night at Pokhara, we reach to Jomsom from Pokhara next day and again reach Damodar Kunda (Pond), Darshan there for an hour and proceed to Muktinath. We can simply return back to Kathmandu via Jomsom and Pokhara from Muktinath. Our team also accomplishes our trip following the same route.

Along with religious perspective, Manakamana and Muktinath are equally significant from cultural, historical and tourism point of view. Monterosa Treks and Expedition organizes this kind of trip for the interested travelers. You are always welcome to join us in our trip.
Janakpur Tour Itinerary
Day 01: Arrival KTM airport & transfer to hotel Arati Darshan in Pasupatinath
Day 02: Morning Pasupatinath Darshan, Dolewore Manadev. Swayambunath
Day 03: Transfer to domestic airport fly to Janakpur Dham & transfer to hotel
Re freshmen and drive to Darshan Dham, visit Darshan, come back
to hotel, Evening Arati Darshan in Janaki Temple in Janakpur Dham
Day 04: Visit Darshan Janaki temple, visit Dhanus Sagar and other all temple
Day 05: Transfer to Kathmandu airport for your final destination for your place
Cost:
5 Star Hotel in Kathmandu & 4 star hotel in Pokhara with full meal vegetarian meal
NRIs/ tourist USD 795
Single Supplementary USD 150 (who taking single room)

Indian passport holder
Per Person INR 35,000

04 Star Hotel in Pokhara with full meal vegetarian meal
NRIs/ tourist USD 725
Single Supplementary INR 100 USD (who taking single room)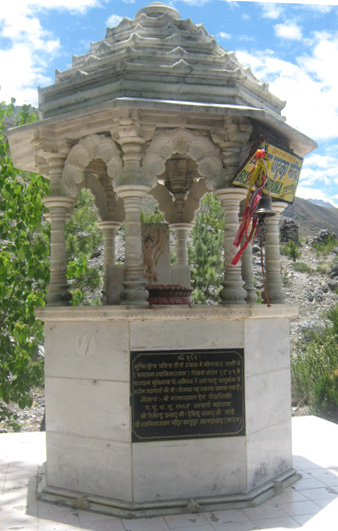 Indian passport holder
Per Person INR 30,000
Cost Includes
2 night hotel in Kathmandu 5 star or 4 star as choose package (full meal plan)
1 night hotel in Pokhara 4 /3 star standard with full meal plan
1 night hotel in Jomsom 1 star standard with full meal plan  
KTM – Pokhara transfer with Mini bus / Jeep on car depend group size, Manakamana
Darshan, cable car ticket
Kathmandu - Pokhara – Jomsom full meal Breakfast Lunch, dinner vegetarian meal
Pokhara – Jomsom – Pokhara – Kathmandu flight ticket
Jomsom – Muktinath – Jomsom by local jeep transfer (12 person sharing basis)
Sightseeing in Pokhara with Darshan Binda Basini & Tal Baharai temple (If time permitting)
1 tour guide with you whole tour Hindi and English speaking
Annapurna conservation fee, trekking permit for Muktinath
Cost Excludes
Personal expenses
Tips for guide & Driver
Everest Flight USD 225 /INR 7000
Extra any services