Pashupatinath, Manakamana Devi & Muktinath Darshan Tour
About Pashupatinath Darshan Located in Central Asia, Nepal is surrounded with many Himalayan regions, plenty of hills and mountains, and the Terai (plain) region, better known as a country with many temples. Kathmandu is the capital of Nepal. Located in Kathmandu is the holy Pashupatinath Temple, one of the holiest and pious temples of all Hindus, not only in Nepal, but also throughout the world. Lord Pashupatinath is the supreme God of the Hindus. Paying Homage to the "Jyotir Lingam" also means a great boon and a successful life to mankind.

While paying homage to Lord Pashupatinath, one has to pay homage first of all to the shrines of gods and goddesses outside the Pashupatinath Temple, or one can directly enter through the south gate of the Pashupatinath Temple and pay homage to 64 Lingams, Kirtimukhi Bhairav, Unmatta Bhairav, Astamatrika, Nava Graha, Hanuman and advance towards the west side of the Temple by paying homage to Nandi, Trishul, Jaleshwor, Doleshwor, Basuki Naag,, Gupteshwor, Lal Ganesh, Surya, Jalasahi Vishnu, again paying homage to Aryaghat and resting for a while at Muktimandap. Then, one proceeds by paying homage to Santaneshwor, Shree Krishna, and by touching the Dharmashila, one has to enter the main temple from the south side. One should not encircle Lord Shiva, instead one must make a half-circle, the reason being that one should not cross the holy water offered to Lord Shiva. By entering through the south gate, one has to pay homage to Ishan Mukh (face) and then the Purva Mukh (Eastern Face), one has to return then to the Dakshin Mukh (South Face), and in the same process, one has to pay homage to the Uttar Mukh (North face) and lastly the Pachhim Mukh (West Face). While doing this, the holy water offered to Lord Shiva cannot be crossed over. By coming out of the temple, the entire homage is completed. 

About Muktinath
Nepal has 14 zones, one of them is Dhaulagiri zone, and it includes Mustang district, a mountainous district of Nepal, where the 5th Dham (pilgrimage) of the Hindus, one major Shakti Peeth out of 51 others, is located. Many come to Muktinath and worship the holy Muktinath Temple. The journey begins from Kathmandu via Thankot, and from there, one has to cross many beautiful hilly bends, alongside the banks of the Trishuli River on the Prithivi Highway; then advancing towards Kurintar, Muglin, Dumre and Damauli. One drives to Pokhara for about six hours, the gateway to the Temple of Muktinath. 

The beautiful Pokhara town is located at the foothills of the Annapurna Range. It is not only an important town from the natural point of view, but also significant from religious and cultural aspects. 

Pilgrims reach Jomsom in a 25 - minute flight from Pokhara. From Jomsom, they take a jeep ride for about 2 hours alongside the Kaligandaki River bank right up to Kagbeni, and upwards to Jharkot, then to Rani Pauwa, and in about 10 minutes walk, one reaches the Muktinath Temple. Among many religious pilgrimage sites in Nepal, Muktinath is a very famous pilgrimage site. Muktinath is 389km away from Kathmandu. Located at 3750m above the sea level, Hindu pilgrims call it Mukti Chhetra, and Buddhists call it Chhuming Gyatsa in Tibetan language. People believe that by performing Darshan or paying homage to Muktinath, they get rid of all the sins committed during their lifetime. Muktinath is a common pilgrimage site for Hindu, Buddhist, Jain, and Vaishanab pilgrims. Many pilgrims come to visit Muktinath from India and abroad every year. In Muktinath there are 108 water spouts. Whoever takes bath under these spouts is believed to earn eternal virtue in life. First of all, people first take a holy bath under these spouts and then pay homage to the Muktinath Temple. As per the Hindu belief, whoever performs Śrāddha (memorial service) in the name of dead ancestors, they go to heaven
Pashupatinath / Manakamana / Muktinath Tour
Day 01: Arrive in kathmandu and transfer to hotel, evening visit to Pashupatinath temple for arati and back to hotel for overnight stay. 
Day 02: After breakfast, Darshan - Pashupatinath, Budhanilkantha, Swayambhunath Stupa, and Krishna temple and back to Hotel.
Day 03: Drive to Manakamana temple and continue drive to Pokhara.
Day 04: Flight ot Jomsom and drive to Muktinath, visit & darshan then drive back to Jomsom.
Day 05: flight ot Pokhara and visit to Pokhara Fewa Lake afternoon fly back to Kathmandu.
Day 06: Final departure and fly to your destination.
Tour Cost
Cost A:
1 Person, INR 35,000
2 Person or More, Per person INR 29,999 for Indian resident (5 star Hotel)
1 Person, USD 1000
2 Person or More, Per person USD 799 for foreigners or NRIS (5 star Hotel)
Single supplementary INR 5,000/ USD 250 who use single room

Cost B: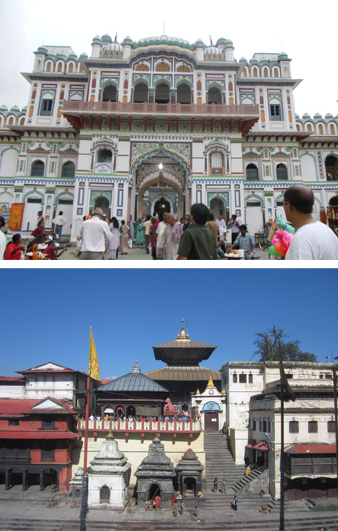 1 Person, INR 31,000
2 Person or More, Per person INR 27,999 for Indian resident (3 star Hotel)
1 Person, USD 875
2 Person or More, Per person USD 599 for foreigners or NRIS (3 star Hotel)
Single supplementary INR 2,500/ USD 150 who use single room
Cost Includes
Hotel in Kathmandu with bed and breakfast, Lunch, dinner (vegetable)
Hotel in Pokhara with bed and breakfast, Lunch, dinner (vegetable)
Guided sightseeing tour with English / Hindi speaking guide
Car, Jeep or mini bus for tour as follow group size
Guided sightseeing in Kathmandu & Pokhara valley
Pokhara - Jomsom - Pokhara - Kathmandu by flight
Full board hotel in Jomsom with full meal
Darshan Devi Manakamana by cable car tour
All entrance permit for sightseeing in Kathmandu & Pokhara
Fare well dinner with Nepali cultural dance & song
Cost Excludes
Personal expenses
Tips
Lunch & Dinner
Any Extra services
Mountain flight (Everest flight Nepal)