Saga Dawa Festival in Tarboche Yamdwar Kailash on 29 May 2018
Saga Dawa festival Tarboche Yamdwar in Kailash: according to the doctrine of Buddhism is the one and only important religious festival which is enthusiastically celebrated on the full moon day of the Tibetan Lunar Month of April based on Tibetan Lunar Calendar in throughout Tibet. Everyone is seen immersed in reciting the prayers and playing the holy beads to appease the gods during this spiritual festival. Every Tibetan people are conscious of their deeds for good action as it is believed merits of good and evil deeds are multiplied when performed during that specific period. Saga Dawa festival is celebrated to glorify the day when Sakyamuni (Lord Buddha) attained Nirvana and enlightenment as per Buddhist literary sources.

The exercise of replacing the "Tarboche" Flagpole, the famous huge pole of many small prayers flags is the most important and interesting event of this festival. Every year, huge mass of Tibetans people gather around with small prayers flag to contribute huge single flagpole, the old is brought down and a new flagpole is erected in the place. It is really fascinating culture you must not miss to witness at if you are in Tibet during Saga Dawa Festival. The whole event is ritually is presided by a Lama (a Buddhist teacher) of nearby Monastery.

The Saga Dawa Festival is merely the celebration which unites people together despite of their difference in class, religion, caste, ethnicity, nationality, race, age and gender. The upright position of the flagpole encompasses fortunate and if not erected straight is believed to bring bad luck to Tibet.

Attending this unique festival of Tibet can be the best way to learn the Tibetan cultural values and assumptions. Everyone will be delighted coming to Tibet during Saga Dawa Festival. So, please come to join us in the trip to celebrate the unity in diversity at Tibet. The travel Company Monterosa treks and expedition always welcomes you.

Meeting point: As soon as you arrive to Tribhuvan International Airport Kathmandu, our staffs will welcome you and take you to hotel.
Itinerary  
20 May 2018 Day 01: Arrival Kathmandu and transfer to Hotel
21 May 2018 Day 02: Full day guided sightseeing Kathmandu
22 May 2018 Day 03: Fly to Gonggar airport and drive to Lhasa
23 May 2018 Day 04: Drive Lhasa to Shigatse 3782m. - Hotel
24 May 2018 Day 05: Drive Shigatse to Saga 4640meter-hotel
25 May 2018 Day 06: Drive to Manasarovar Lake and overnight
26 May 2018 Day 07: Morning Puja and lunch drive to Darchen
27 May 2018 Day 08: Drive to Yamdwar & start walk - Dirapuk
28 May 2018 Day 09: Trek to Dolma La 5636m.and ZuthulPuk
29 May 2018 Day 10: Trek to Chongdo, drive Darchen city and
Tarboche Yamdwar to see Saga Dawa festival
30 May 2018 Day 11: Drive to Saga and over stay in Saga-hotel
31 May 2018 Day 12: Drive to Shigatse and over night at hotel
01 June 2018 Day 13: Drive to Lhasa overnight Hotel Lhasa City
02 June 2018 Day 14: Sight-seeing Potala place and Bharkhor
03 June 2018 Day 15: Drive to airport & fly back to Kathmandu
04 June 2018 Day 16: Transfer to KTM airport for final departure
Cost: Join basis / Privet tour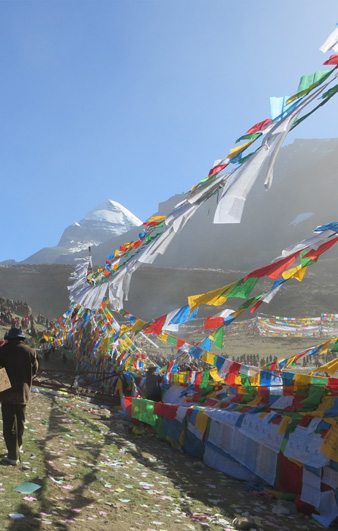 Package 1
NRIs / tourist: 5 Star Deluxe room Radisson (International standard) hotel in Kathmandu
Package A: American citizen per person USD 3400 + Visa fee USD 175 - Total USD 3575
Package B: Canadian citizen per person USD 3400 + Visa fee USD 155 - Total USD 3555
Package C: Other citizen per person USD 3400 + Visa fee USD 85 - Total USD 3485

Single Supplementary USD 500 (If take single room) but not every place in Tibet.

Package 2
NRIs / tourist: 5 Star Deluxe hotel in Kathmandu Nepali standard
Package A: American citizen per person USD 3100 + Visa fee USD 175 - Total USD 3275
Package B: Canadian citizen per person USD 3100 + Visa fee USD 155 - Total USD 3255
Package C: Other citizen per person USD 3100 + Visa fee USD 85 - Total USD 3185

Single Supplementary USD 400 (If take single room) but not every place in Tibet.

Hotel in Kathmandu
Package 1: Kathmandu: A, B, C 5 Star Deluxe hotel Radisson (Full meals)
Package 2: Kathmandu: A, B, C 5 Star Deluxe hotel Nepali standard (Full meals)

Hotel in Tibet Lhasa & in route
Cost Includes
3 nights 5 star hotel Kathmandu with bed and breakfast
Arrival, departure airport – hotel – airport transfer in KTM
Full day guided sightseeing in Kathmandu & Patan city 
Hotel will be 4 star in Kailash, guest house / mud house
Tibetan guide and Nepali team leader (English speaking)
Deluxe air condition coach 30 seats / van for 8-14 person
1 Support truck for carry Nepali staff, Fresh food for tour
Fly Kathmandu – Lhasa- Kathmandu as fallow schedule
Porter for yak and yak man for mount Kailash round tour
Tibet Kailash travel permit-Tibet visa for Mt. Kailash tour
Cook, kitchen and helper for mount Kailash-Manasarovar
Every day meal; breakfast, lunch, dinner vegetarian meal
Life and medical Insurance for Nepal staff for Mt. Kailash
Full day sightseeing in Lhasa including Potala Place
Farwell dinner with Nepali song and dance in Kathmandu
Extra cost if required for Kailash:
Horse ride during the Parikrama 1 horse for 3 days USD 400
(Directly payable to the Tibetan guide)
Porter for carrying small bag for 3 days round Kailash USD 250
Cost Excludes
Nepal tourist visa and re - entry Visa
Your tour and travel Insurance for all
Emergency rescue by jeep / Helicopter
Bar and beverage bills for Kailash
Persona sleeping bag and Jackets
Personal equipment for Kailash tour
Tips for driver Nepali guide, staff
Riding Horse for Kailash Round
(Direct payable to horse herder)
Hotel in Tibet Lhasa & in route
Lhasa Tibet: 4 Star Gyanggen hotel (Full Meals)
Shigatse: 4 star Gesar Hotel (Full Meals)
Saga: 4 star Bramaputra or similar
Manasarovar Lake: Guest house or mud houses
Darchen: 4 star Himalayan Kailash Hotel – Wifi (Western style) room
Direpuk: Normal guesthouse: Shishapangma Guest house (Parikrama first day)
Zuthulpuk: Normal guesthouse (very basic) (Parikrama second day)
Packing list for Kailash Yatra
Back pack for 3 days Kailash Parikrama
Enough warm clothing for Kailash Yatra /tour
Basic medicines (minor injuries or life saving kits)
Regular medicines that you have been prescribe
Toiletries kit (Shop, Shampoo, Toothpaste brush)
Water bottle / Thermos flask, hot water (2 litters)
Sport shoes good for walk, gloves, torch light
Woolen socks (minimum 4 pairs), Sunglasses
Thermo cot undergarment, sun lotion, cold cream
(Shirt, pants which is easier to be while do Kora)
Rain coat or Umbrella, walking stick for 3 days 
Sweets, Zinger/garlic candies, dry fruits and etc
FITNESS
Kindly consult your doctor and get yourself examined for Spiritual Kailash Manasarovar tour
As Holy mount Kailash & Lake Manasarovar is situated at high altitudes please start exercises
like walking, jogging, yoga meditation and other breathing exercises in order to have a make
successful holy tour
NSURANCE
Kindly get yourself a Travel medical insurance for this Kailash Manasarovar tour. Please make sure you cover yourself for emergency evacuation (helicopter), road transportation and hotel accommodation in the insurance.
Every Yatri have Life, Medical, Rescue Jeep or Helicopter insurance before getting enrolled in Kailash Tour. Do insurance at home country.
HEALTH PRE-CAUTION
Oxygen is less at higher altitudes. The inclement weather and high altitude induces certain illness generally not encountered over the plains. Headache, nausea, lassitude, lethargy, breathlessness, general uneasiness [malaise], high irritability, light loss of balance, disorientation, incoherence and insomnia are a few. It is common to all irrespective of the age, sex and physical fitness. Gradual acclimatization is the best answer. Tranquilizers, sleeping dose and strong anti-biotic must be avoided. Some of symptoms indicate that the body mechanism is readjusting to new environments. The best idea is deliberately slow down all the activities and follows the following rules:
Relax-do not exert, be excited, make rest
Reduce talking each other
Walk slowly – adopt one third of your speed and space.
Keep your load light.
Walk for 30 minutes and rest for 5 minutes
Whenever you feel uncomfortable, just stop; rest and relax.
Ignore the sudden outbursts of fellow pilgrims and avoid arguments.
Observe silence with smile.
Never go too high and too fast.
Consume plenty of liquids; never proceed with an empty stomach.
Chant a prayer or visualize everything around to suit your pleasant thoughts or put on the earphones and listen to your favorite music, Bhajans, chanting etc.
Be careful not to catch a cold. It is better to be over clothed than under protected. En-route avoids taking bath or drinking water from Lake Streams or rivers, as your system is not conditioned for this.
Protect yourself against dust and direct sunshine during the long stretches of driving. Face, feet and hands must be well protected.
The uneven ground, steep slope and slushy banks are full of potholes. Do not combine walking and sightseeing together.
Always listen to your guide or the one with experience. Never leave the group.
On this trip, over exertion is to be avoided and drinking plenty of fluids is recommendable. During winter
Cancellation Policy
50% cancellation charges of the rate package cost incase cancellation is received between 7 – 15 days of departure.
No refund in case cancellation is done after your Kailash permit and Tibet visa.
A client on his/her own will make no refund or adjustment in the event of interruption of journey after commencement of the tour.
Any changes in given itinerary requested by the client will be on chargeable basis.
Extra accommodation in Kathmandu over 2 nights for Helicopter and 3 nights for via Lhasa as per itinerary due to early arrival from home or Kailash, rescue charges, medical bills are bill direct to Yatris.
If the trip is disturbed in case of Visa/ permit problem create from Tibet, or any other reason, which is not in our hand, it is client's own risk and clients pay all the expenses.
During the Kailash Manasarovar tour, if any Yatri in case of sick or will cancel trip not doing complete tour, the package cost is 100% not refunded.