Saga Dawa Festival in Tibet Tarboche in Mount Kailash on 29 May 2018
Saga Dawa, according to the doctrine of Buddhism is the one and only important religious festival which is enthusiastically celebrated on the full moon day of the Tibetan Lunar Month of April based on Tibetan Lunar Calendar in throughout Tibet. Everyone is seen immersed in reciting the prayers and playing the holy beads to appease the gods during this spiritual festival. Every Tibetan people are conscious of their deeds for good action as it is believed merits of good and evil deeds are multiplied when performed during that specific period. Saga Dawa festival is celebrated to glorify the day when Sakyamuni (Lord Buddha) attained Nirvana and enlightenment as per Buddhist literary sources.

The exercise of replacing the "Tarboche" Flagpole, the famous huge pole of many small prayers flags is the most important and interesting event of this festival. Every year, huge mass of Tibetans people gather around with small prayers flag to contribute huge single flagpole, the old is brought down and a new flagpole is erected in the place. It is really fascinating culture you must not miss to witness at if you are in Tibet during Saga Dawa Festival. The whole event is ritually is presided by a Lama (a Buddhist teacher) of nearby Monastery.

The Saga Dawa Festival is merely the celebration which unites people together despite of their difference in class, religion, caste, ethnicity, nationality, race, age and gender. The upright position of the flagpole encompasses fortunate and if not erected straight is believed to bring bad luck to Tibet.

Attending this unique festival of Tibet can be the best way to learn the Tibetan cultural values and assumptions. Everyone will be delighted coming to Tibet during Saga Dawa Festival. So, please come to join us in the trip to celebrate the unity in diversity at Tibet. The travel Company Monterosa treks and expedition always welcomes you.
Mount Kailash Mansarovar holy Yatra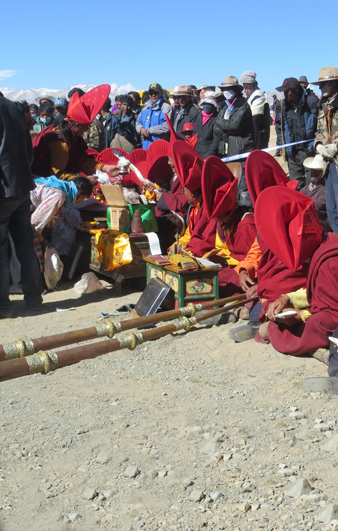 Itinerary 01: Less crowded

20 May 2018 Day 01: Arrival in Kathmandu and transfer to hotel
21 May 2018 Day 02: Preparing Kailash tour & apply Tibet visa
22 May 2018 Day 03: Drive to Shyabru Besi Nepal stay in G. H.
23 May 2018 Day 04: Drive to Kerung and Stay in Guest house
24 May 2018 Day 05: Drive to Zongka and stay in Guest house
25 May 2018 Day 06: Drive Zongka to New Dongba stay hotel
26 May 2018 Day 07: Drive Mansarovar Lake Chiu Gompa G.H.
27 May 2018 Day 08: Drive Yamdwar - trek to Dirapuk in G. H.
28 May 2018 Day 09: Trek to Dolmala - Zutulpuk- guest house
29 May 2018 Day 10: Trek to Chongdo, drive Darche/Tarboche

Atten: Saga Dawa festival in Tarboche, drive Manasarovar Lake

30 May 2018 Day 11: Drive Mansarovar to Saga, stay in Hotel
31 May 2018 Day 12: Drive to Kerung & Shyabru Besi, stay G.H.
01 June 2018 Day 13: Drive to Trisuli Bazaar & Kathmandu hotel
02 June 2018 Day 14: Transfer airport from hotel final departure

Itinerary 02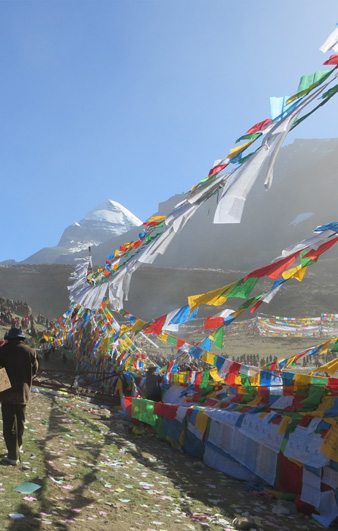 22 May 2018 Day 01: Arrival in Kathmandu and transfer to hotel
23 May 2018 Day 02: Preparing Kailash tour and apply Tibet visa
24 May 2018 Day 03: Drive Shyabru besi and stay in guesthouse
25 May 2018 Day 04: Drive to Nepal – Tibet boarder and Zonkha
26 May 2018 Day 05: Drive Kerung to Zongka and overnight G.H.
27 May 2018 Day 06: Drive Zongka to New Dongba, stay in hotel
28 May 2018 Day 07: Drive New Dongba to Mansarovar stay GH
29 May 2018 Day 08: Drive Mansarovar to Darchen G.H. / Hotel

Attend Saga Dawa festival at Yamdwar-Tarboche & back Darshen

30 May 2018 Day 09: Drive Yamdwar-trek to Dirapuk guest house
31 May 2018 Day 10: Trek to Dolmala Pass-Zutulpuk-guest house
01 June 2018 Day 11: Trek to Chongdo drive to Saga stay in hotel
02 June 2018 Day 12: Drive Saga to Zongka and Kerung stay G.H.
03 June 2018 Day 13: Drive to Nepal Tibet boarder & Kathmandu
04 June 2018 Day 14: Transfer to airport from hotel -final departure
Cost: Minimum 6 persons or more (3 star hotel in Kathmandu)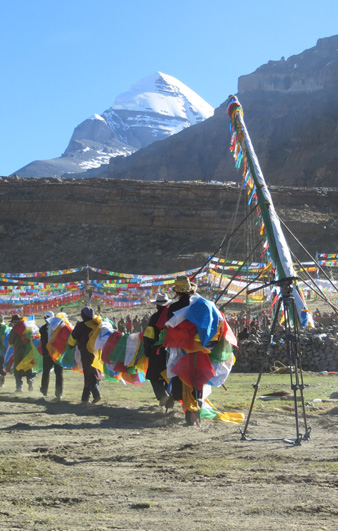 Per person US$ 2195
Cost: Minimum 6 persons or more (5 star hotel in Kathmandu)

Per Person USD 2500
Tibet visa fee US$ 85 and Canadian Citizen 155, US citizen US$ 175

Extra Cost
Mountain flight / Everest flight is INR 7500 (USD 225) per person
Extra cost if required for Kailash:
Horse ride during the Parikrama 1 horse for 3 days USD 400
(Directly payable to the Tibetan guide)
Porter for carrying small bag for 3 days round Kailash USD 250
Cost Includes
3 nights 3 or 5 star hotel Kathmandu with bed & breakfast
Arrival, departure airport – hotel – airport transfer in KTM
Guided half day sights; in Pashupatinath, Budhanilkanth
Accommodation in Mt. Kailash mud house, guest house
Tibetan guide and Nepali team leader (English speaking)
Deluxe air condition coach 30 seats / van for 8-14 person
1 Support truck for carry Nepali staff, Fresh food for tour
Transfer Kathmandu -  Kerung border-KTM by tourist bus
Porter for yaks and yak man for mount Kailash round tour
Tibet Kailash travel permit-Tibet visa for Mt. Kailash tour
Chef cook, cook and kitchen helper for mount Kailash tour
Every day meal; breakfast, lunch, dinner vegetarian meals
Life & medical Insurance for Nepal staff for Mt. Kailash
Complete Kailash Manasarovar tour certificate-if required
Who take deluxe 5 star hotel in Kath, we provide 4 star hotel
in Dongba, 4 star hotel in Darchen & guest house / mud house
Farwell dinner with Nepali song and dance in Kathmandu
Cost Excludes
Nepal tourist visa and re - entry Visa
Your tour and travel Insurance for all
Emergency rescue by jeep / Helicopter
Bar and beverage bills for Kailash
Persona sleeping bag and Jackets
Personal equipment for Kailash tour
Tips for driver Nepali guide, staff
Riding Horse for Kailash Round
(Direct payable to horse herder)
Packing list For Kailash Yatra
Small back pack for 3 days Mt. Kailash Parikrama
Enough warm clothing for Mt. Kailash Yatra / tour
Basic medicines (for minor injuries / life saving kits)
Any regular medicines that you have been prescribed
Toiletries kit (shop, Shampoo, Toothpaste, tooth brush)
Water bottle /Thermos flask for hot water (2litters bottle)
Sport shoes good for walking 3 days Kailash Parikrama
Gloves, Woolen socks (minimum 4 pairs), hand clove
Wool / Thermo cot undergarments, wind proof jacket
Shirt and pants which is easier to be while doing Kora
Sunglasses, Sun lotion/cold cream, Torch light, rain coat
Umbrella, walking stick, Sandal for use evening & morning
Sweets, Zinger / garlic candies or dry fruits, lozenges, etc
Cancelation Policy
Cancellation made up to 45 days before the trip departure will incur a 15% fee of the total trip cost
Cancellation made up to 30 days before the trip departure will incur a 25% fee of the total trip cost