Halesi Mahadev Pilgrimage Holy Tour
The identity of hilly district Khotang of Sagarmatha Zone is widely popular because of the famous religious site, Halesi. The major attraction of this religious site is Halesi Mahadev. Every year, thousands of pilgrims and tourists come to visit this sacred pilgrimage of Hindus, Buddhists and Kirats.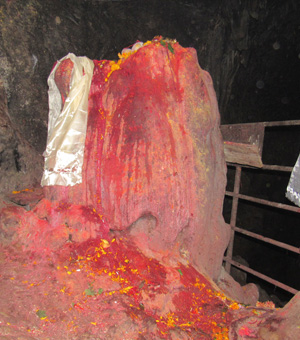 The journey to this holy place begins from Kathmandu passing Banepa, Dhulikhel via Araniko highway and the adjoining route of Sinduli, Bardibas, B.P Highway, Nepalthok, Khurkot, turning the route to Ghurmi through mid hilly highway. The Distance of Khurkot is 112km from Kathmandu and Ghurmi is another 61KM from Khurkot. Halesi Mahadev is very famous religious center from the ancient time. Halesi Mahadev in Pilgrims three hours time by using Charter Helicopter from Kathmandu.

Following the route that extends up to Okhaldhunga, Solukhumbu and Halesi, we reach to Ghurmi, which is the adjoining place of the western routes from Katari, Betini, Gahubari, Lekhani. Travelling 10km distance by vehicle we reach to Jayaram Ghat Dudh Koshi River in 1 hour. After crossing a bridge located in this rural Bazaar, Jayaram Ghat and then driving for two hours, we can reach to Halesi Bazaar. Tourist or pilgrimage go by Helicopter which is roundly 3 hours flight from Kathmandu, Darshan and come to Kathmandu. This is how local people describe the reason behind the name of this sacred site located in a serene natural hilly environment. "Myth says that there was once a huge tree of Madane (tree of Seedless fruit) just above the current Halesi Mahadev. A bird named 'Halesho' used to chirp sitting at that tree. So, elderly people decided to name this place after the name of that bird 'Halesho' and it became 'Halesi'."

Likewise, the historical view about how this sacred place with ensconced Mahadev was addressed is like this, "There was a bushy jungle and once a local Rai caste hunter was hunting at this forest. He tried to hunt a deer that runs into the bushes. Hunting dog tried to search for the deer and went into the bushes but both of them didn't returned back. After this, the hunter seeks help from villagers and went to the bushes where they found a cave. Curiously, they entered into the cave and found a big Shivalinga winded round by snake. They were delighted to see this and began worshipping it as a dwelling of Lord Shiva. There are several other religious and mythological reasons behind the growing religious significance of Halesi."

The glory of three different religions (Hinduism, Buddhism and Kirat), this pilgrimage and Halesi Mahadev is worshipped as the great god even of gods and goddess (Devadidev) by Hindus, the founder of Kirat religion is believed to have origin at this place by Kirat people, whereas Buddhists venerate Halesi regarding it as one of their six important pilgrimage sites.

It is believed that ascetic of Shaiva (The existing Hindus from time immemorial), and Buddhists and also other several ascetics have obtained Salvation meditating at Halesi. Buddhists worship it as a divine place where their great Guru Rimpoche, Padamsambhav meditated and accomplished immortality. Hence, Buddhist religion followers, priests come to worship Halesi with a belief of getting 10 more years of life span and also Salvation.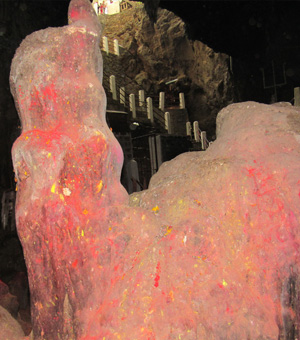 It is known as 'Marathi' in Tibetan language. This sacred site is worshiped as a chariot leading towards good deed from misdeed, unreality to reality, sin to justice and ultimately towards Salvation.

This temple is about 300ft. below the surface level. By entering from the cave way, we can see the divine goddess Parvati on the ridge hole of wall and reach into the mid ground with the brilliant form of lord Shiva himself, The Shivalinga. Similarly, there are other several idols of deities such as, Pashupatinath, Parvati, Ganesh, Kumar, Laxmi, Saraswoti, Durge Bhawani etc.

This 2ft. tall face of Mahadev, The Shivalinga is said to have expanded up to Vasaha cave and with water under it. We can see a Cow's bulky udder-like hill just above this Shivalinga which is worshipped as Kamadenu Cow (fabulous cow produced at the churning of the ocean and supposed to grant whatever is requested of her) ablating the Shivalinga from her milk. It is mythically said that milk used to flow from here during ancient time.

Pilgrims feel blessed to venerate this popular holy place and worship the great Shivalinga, a symbol of long and healthy life, wish fulfillment and Salvation. There are 5 gates outside Halesi Mahadev: Swargadwar, Dharmadwar, Paapdwar, Janmadwar, Karmadwar. It is said that if we can enter into these dwars (Gates) and come out then we can obtain salvation. Pious people are believed to easily enter from all the dwars (Gates) except Swargadwar but sinner can never though they try for million times. Nearby is Ganesh Temple and Boudha Monastery in the other side. This temple has been built according to the religious trend of worshipping Lord Ganesh at first. There is a ritualistic trend of performing everlasting Pancha Upachar Pooja by unmarried boy from Mahanta, Giri caste. Three different religions (Hinduism, Buddhism, Kirat) opine Halesi as a must visit place for being blessed with longer life span, good health, children, wealth and fulfillment of all the wishes. The written records says that this copper plate (Tamrapatra) and these bells (Ghanta) was provided by the then King Girvad Bir Bikram Shah in this temple in the year 1861.

There is another 6 meter long cave called Vasaha Cave along this major cave of great Shivalinga. It is quiet narrower in the beginning but becomes wider as we move on to the western side and finally extends to the surface level.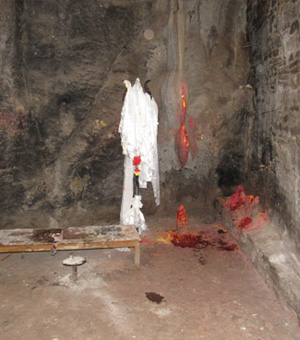 Kailash forest is at the height above the cave. This stone inside Vasaha Cave is called Nandi or Bull. It is also believed to be the bone of burned devil, Bhirkhasur. The nearby Sankha (blowing conch shell) is said to be the Gauri Sankha of Lord Vishnu which he proudly blow after burning Bhirkhasur. The shape of snake is visible on the wall. The ancient Hindu scriptures say this about these Cave, Stone and Sankha.

"Devil Bhirkhasur did strenuous penance to please Lord Shiva and to become supreme conqueror. Lord Shiva became delighted and asked him for any wishes. Bhirkhasur wanted a boon that anyone would be burned and turned into ashes as soon as he keep his hand into his/her head. Lord Shiva could not take his words back so he granted this request. But, Bhirkhasur there upon attempted to touch the head of Shiva with his hand because he saw Parvati and wanted to possess her. Shiva fled and was chased by Bhirkhasur. Lord Vishnu on hearing Shiva's problem came in a disguise form of Mohini in order to help Lord Shiva. She was exceedingly beautiful that Bhirkhasur wanted to marry her. She said that she would marry only if he could match her dancing moves. While dancing, she struck a pose when her hand was placed on top of her own head. As Bhirkhasur imitated her, he was tricked into touching his own head and hence Bhirkhasur immediately burnt up and burned into ashes due to the power he had recently gained from Lord Shiva. The scenario of the cave matches with this myth.

Pilgrims blow the Sankha (Blowing shell) at the beginning which is hanging on the wall of Prabesh Dwar (Entering gate) of this cave. The ancient scriptures say that lord Shiva hides goddess Parvati in the place of today's Shivalinga when Bhirkhasur was chasing them.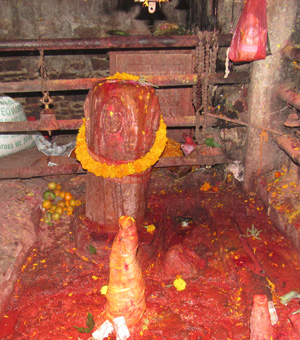 This temple is a very popular religious site from the ancient age. Big fairs and festivities are held here during the occasions like, Balachaturdashi, Shivaratri and Ramnawami. People also perform the rituals and ceremonies like, Rudri pooja, Lightning 100000 lamps (Lakh batti), wedding, Bratabanda etc in this temple.

Geographically, although this temple is situated in a rural hilly region, its religious significance has contributed in making this place facilitated for visitors with fine lodges and hotel for lodging and food provisions. Currently, it takes one day to reach this place by vehicle and we can return back on the next day after worshipping at the temple. Helicopter tour to this holy place is only of 2 hours. The glory and pride of this holy Halesi Dham (Pilgrimage) offering exotic view of Mount Darje Lakhpa, Neukbar and other several snowy peaks in its northern side is great and widely popular.

The Journey of Halesi Mahadev worship is very important not only from religious and cultural point of view, but it is equally significant from the perspective of Tourism. ATITHI DEVO BHAVA (Guest is God)
Itinerary One
Day 01: Drive Kathmandu to Ghurmi, Jayram Ghat, Halesi
Day 02: Darshan Halesi Mahadev, drive to Kathmandu Jeep

Trip Cost:
Per Person USD 500
Cost Includes
Transfer by Jeep Kathmandu-Halesi – Kathmandu
1 Night hotel in Halesi Mahadev with full meals
1 Tour guide with Holy persons for guiding
Itinerary Two
Day 01: Kathmandu – Halesi – Kathmandu time: 2 hrs.

Trip Cost: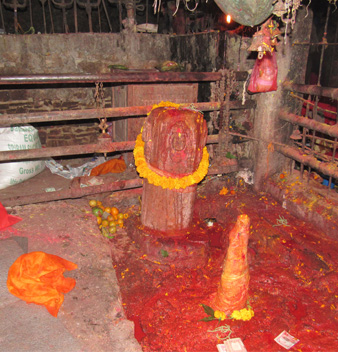 1 Person USD 2500
2 Persons, Per Person USD 1250
3 Persons, Per person USD 1000
4 Persons, Per Person USD 750
5 Persons, Per Person USD 600
Cost Includes
1 Tour guide fly with your team 5+1
Kathmandu – Halesi – Kathmandu fly with helicopter
1 Lunch in Halesi with veg. or non veg. meals
Hotel – airport – hotel transfer